Public transport
For details on accessible trams and buses please visit the Blackpool Transport website There is lots of information about level access, audio and visual signage and wheelchair and mobility scooter users.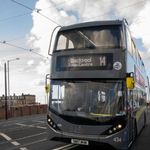 For travelers by train, there is step free access at Poulton le Fylde station from the street level ticket office to the platforms by lift. On the platform you will find an accessible café and staff are available to assist onto trains. For further information visit the National rail website
Disabled parking
Most council run car parks have plenty of disabled parking bays in positions nearest shops and facilities. You can find more details and locations on the Wyre Council website There are also specially marked on street parking spaces in most of the towns in the borough.
Shopping, eating and drinking
Many of our independent shops, restaurants, cafes, pubs and bars have step free access and accessible facilities inside.
The indoor and outdoor market at Fleetwood has accessible step free access and ground floor toilets, with plenty of room inside for mobility scooters, wheelchairs and other walking aids. There are also several outdoor markets held which are easily accessible.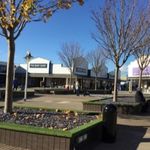 The Affinity shopping centre in Fleetwood is fully accessible for visitors. You'll find accessible parking spaces close to the front entrance and ramped access into the mall. There are no steps to negotiate around the centre and all stores are accessed on ground level, or provide a lift for customer use. An induction loop is available, and accessible toilet facilities are located at the main entrance.
Accommodation
Visit Lancashire has some great information on accessible holiday accommodation, including specific listings for hearing, visual and mobility impaired specialised accommodation.
Brickhouse Farm Cottages
Brickhouse Farm in Hambleton is set amongst acres of stunning countryside. Its 12 cottages vary in size, from two to five bedrooms, and were purpose built in 2013 to provide holiday accommodation for families, friends and carers.
Each cottage is wheelchair friendly with level access throughout the ground floor and patios. They provide many disability aids such as ceiling track hoistt, free of charge. Some of the cottages have their own private patio facing the fishing lake and others have their own accessible balcony over the fishing lake. Some even have illuminated hot tub under the stars….with hoists!
Visit their website to find out how to book.
Fleetwood Beach wheelchairs
Unique in the North West and the Fylde coast, Fleetwood beach wheelchairs are for everyone with disability, who would find beach access impossible with normal wheelchairs. It's manned entirely by volunteers. For more information and how to book, visit the beach wheelchairs website
Toilets
There are several accessible public toilets in Wyre located in Fleetwood, Knott End, Cleveleys, Poulton and Great Eccleston. For the full directory and locations please visit the Wyre Council website
You may need a radar key which can be purchased from the council offices.
Trampers
A tramper is an all-terrain mobility scooter. They are available to hire and are perfect for anyone who has difficulty walking, providing access to areas that may have been difficult or impossible in the past, so you can experience everything that being outdoors offers.
You can hire a tramper free of charge (donations are welcome) for use on suitable guided walks, on some health walks or on tramper trails in Wyre and Lancashire. First time users need to attend a short induction and should take along a passport photo and proof of identity to register.
For walks or activities in the Garstang Walking Festival please book a tramper when you book a walk/activity.
For more information and to book a tramper contact:
Wyre Estuary Country Park: 07976 650803
Champion Bowland Tramper: 01200 446387
A tramper must be booked a minimum of 48 hours in advance. Contact the hirer for further details. You can discover more tramper trails across Lancashire by visiting the Forest of Bowland website Some venues may ask for a small charge or donation, please check when you book your tramper.