Christmas in Garstang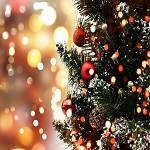 The Big Switch On - Monday 27 November 6pm - 7:30pm - Market Cross
Head into Garstang for the Big Switch On and enjoy some festive fun, Christmas carols and entertainment.
Light Up Garstang Christmas fair - Tuesday 28 November 6pm-9pm - Wyrebank Garstang
The festive fundraising event returns for 2023! There'll be a great selection of stalls selling perfect Christmas gifts, treats, crafts and food, plus a fantastic raffle. Free entry!
Garstang Victorian Christmas festival - Monday 4 and Tuesday 5 December 6pm-9pm - Garstang town centre
This is the best time to do your Christmas shopping in Garstang! Local businesses open late on the Monday and Tuesday and stalls and organisations flock the street with lots of festive treats and gifts for all the whole family.
Christmas Craft Fair - running now until Thursday 7 December - Garstang Arts Centre
Visit Garstang Arts Centre for its annual Christmas craft fair. You'll find stalls selling Christmas themed woodwork, jewellery, art, silverware, glassware, cards, knitwear, pottery and much more.
The Arts Centre is open on Tuesdays and Thursdays from 10am-4pm, and Saturdays 10am-12:30pm.